Japanese events and spaces in Lithuania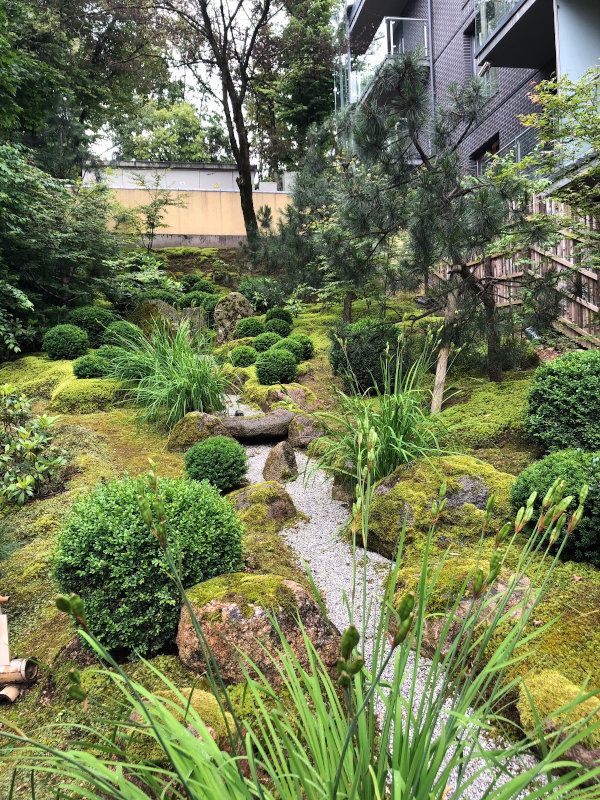 (Sei shin en garden in Vilnius. Japonijos kultūros namai archive)
People can discover Japanese culture in Lithuania in various ways, i.e. through books, exhibitions, theatrical performances, concerts, cinema... Even though significant geographical and cultural differences exist between the two nations, it seems that the interest in Japan has been increasingly growing in Lithuania since the 1990s. During the last decades of the Soviet era and the early years of independence, an escape into exotic Japanese culture was basically a way to escape a culture of social realism. That is why the first significant events, for example, The Week of Japanese Culture organized in 1995, received great interest – people were coming through the windows during some of the events due to a lack of seats. After the first attempt, many regular festivals developed in Vilnius, Kaunas, Alytus, and other Lithuanian places. These Japanese festivals are becoming the most popular form of introducing the Japanese culture to Lithuanian people.

This interest in the Japanese culture leaves tangible signs in different places in Lithuania. More than one town has Japanese gardens or parks of sakuras, both private and public. These places play a significant role in cultural events and meaningful exchanges where two cultures get together and learn from each other.
A whole range of institutions stands behind these events and initiatives, which take care of Japanese culture dissemination in Lithuania. For instance, the Culture Center of the Embassy of Japan in Vilnius, the Center for Asian Studies of Vytautas Magnus University in Kaunas, the Center of Asian Arts in Vilnius. Many initiatives are developed by private enterprises, for example, "Yukari" and Japanese Culture Home in Vilnius, Bonsai studio "Sensei" in Alytus, "Azija LT" in Kaunas, and others, which teach the Japanese language, organize events, and participate in various projects.
The most important festivals

(closing ceremony of Sugihara Week 2017; Azija LT archive)
In Lithuania, many cultural events are devoted to Japan. They are organized by different municipalities, museums, and other cultural institutions. However, the big festivals are the most popular as they attract many artists from various areas and provide a platform not only to represent diverse aspects of Japanese culture but also to develop mutual creative projects between Lithuanian and Japanese artists. Several festivals preserved deep-rooted traditions and are organized more or less regularly and this makes them a phenomenon in the area of Lithuanian culture.
The Japanese cultural spaces in Lithuania
It seems that Lithuanians fell in love with those aspects of Japanese culture that are connected to nature rather than paintings, theater, or music. Lithuanian people are genuinely interested in small trees bonsai, the art of flower arrangement ikebana, and eager to spend time under sakura trees (hanami tradition) in spring. Lately, the philosophy of forest bathing (shinrinyoku) is becoming more and more popular.

There are many Japanese gardens in Lithuania. The garden in Kretinga is considered to be the biggest one in Europe and it is constantly renewed and improved. Two more gardens can be found in Vilnius – the botanical garden of Kairėnai and Seishinen located in the city center. At the moment there are several Japanese gardens in future plans. In addition to public and popular gardens, there are some (maybe several dozen) smaller or bigger private gardens.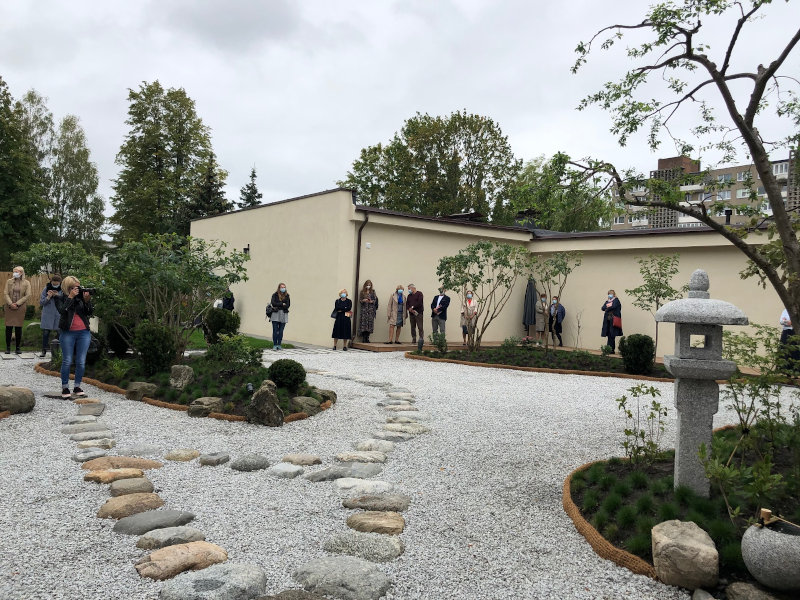 (Japanese garden in Klaipėda; Laura Popkytė-Fukumoto personal archive)
Parks of sakura trees in Lithuania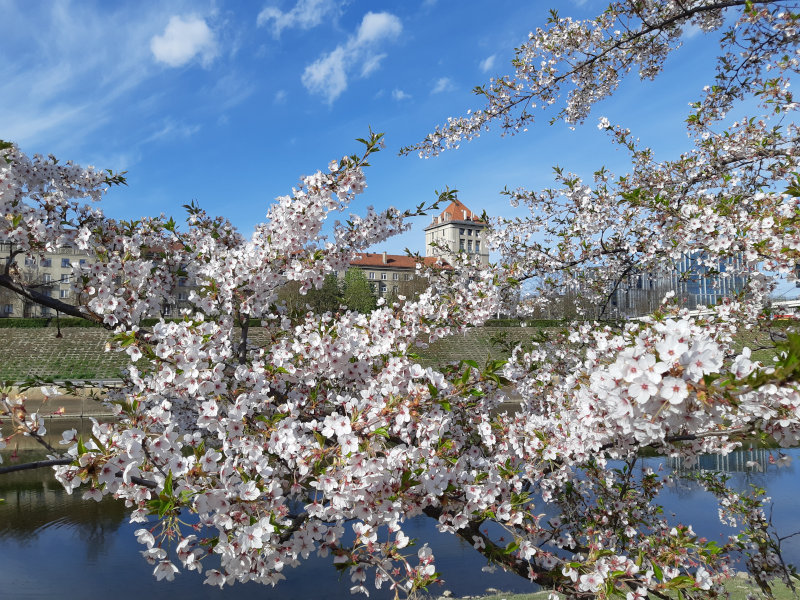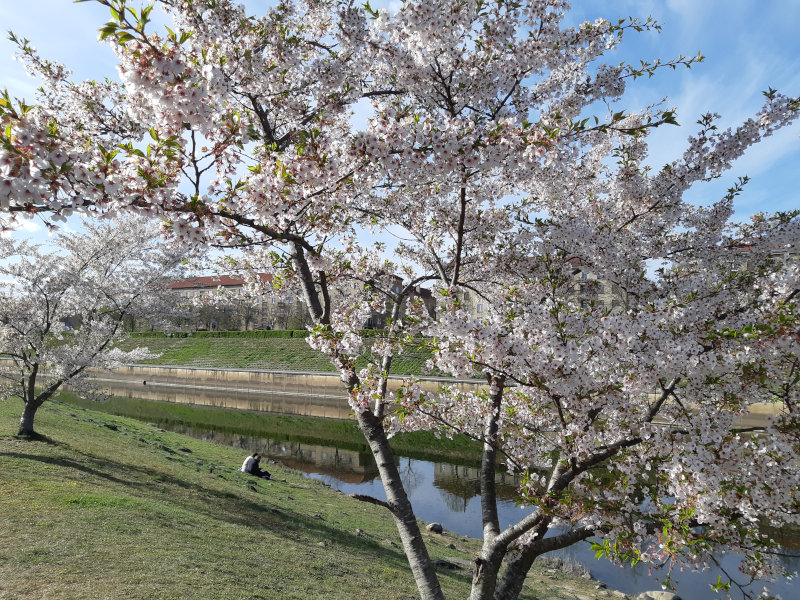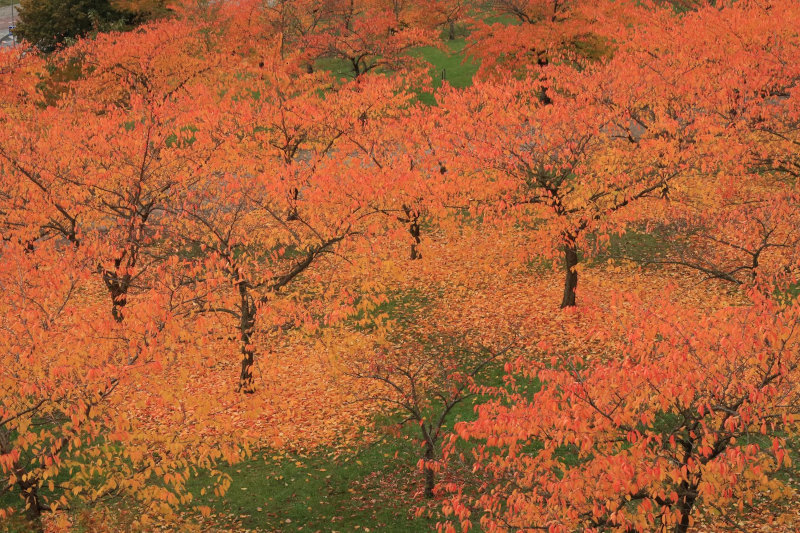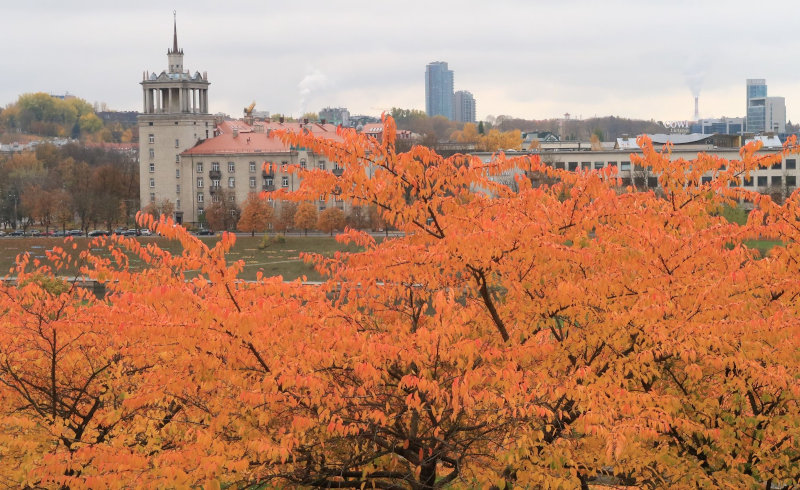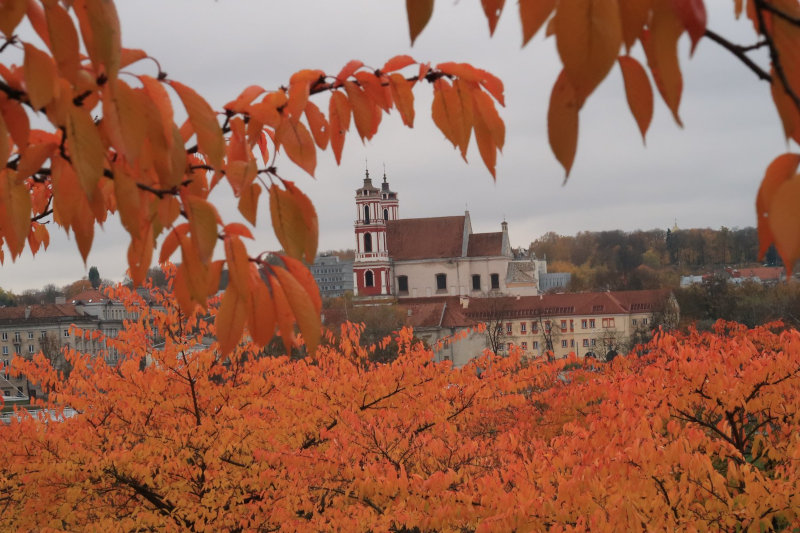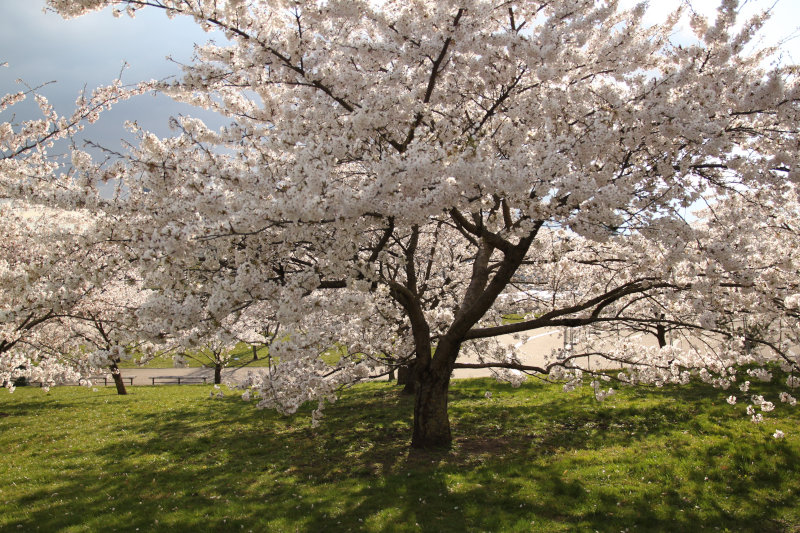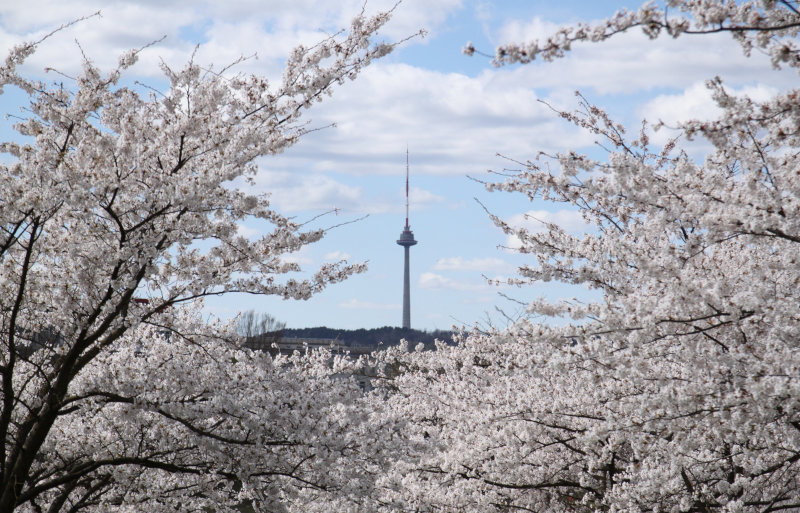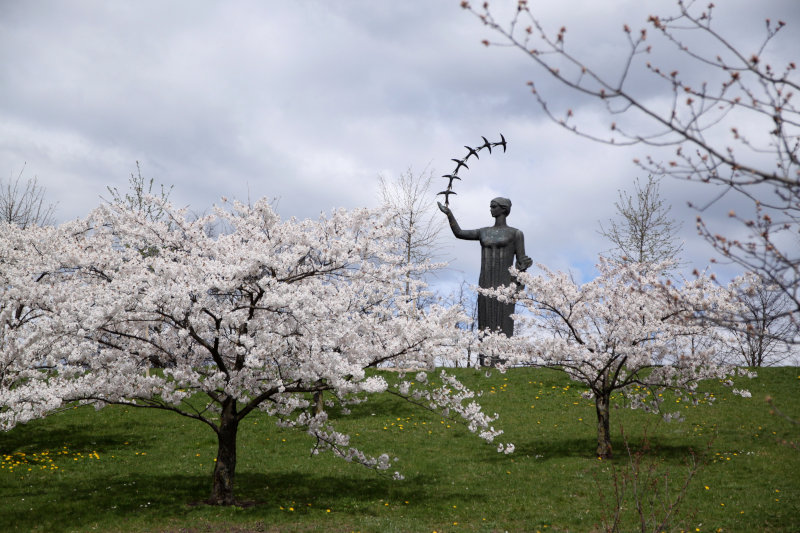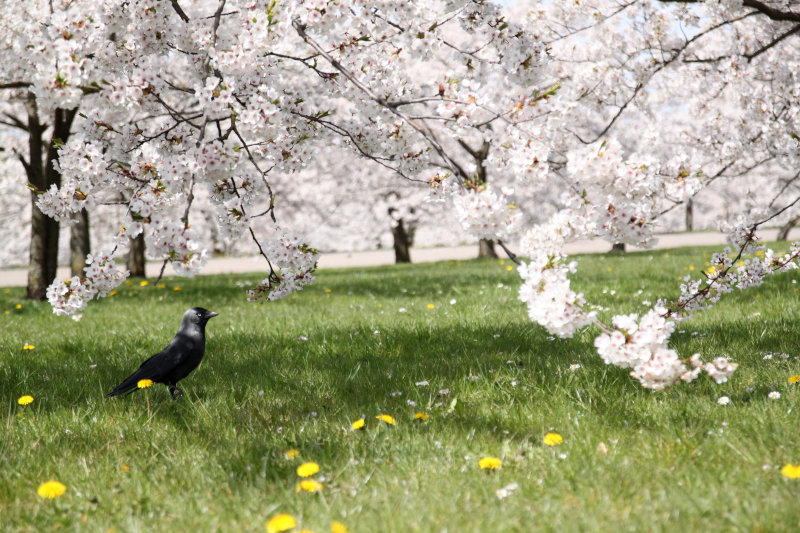 The first park of sakura trees in Lithuania was landscaped in 2008 in Vilnius. The main initiator of this park was Rimantas Vaitkus, who named this space "Chiune Sugihara Sakura Park." Because of his contribution, the Japanese cherry trees became known as sakura trees among Lithuanians. Since then, more and more parks of sakura trees appeared in Lithuania.
(photos by Milda Kraśko and Aurelijus Zykas)
A map that indicates public Japanese gardens and parks in Lithuania:
Juršienė, Jūratė. 2006-06-22. K.Ptakausko svajonė - japoniškas sodas Alytuje. Delfi. 2006 m. birželio 22 d.
Leitanaitė, Rūta. 2009. Japoniškai lietuviški architektūros dialogai. Bernardinai.lt, 2009 m. liepos 27 d.
Kamaitis, Dainius. 2011. Būsimieji Lietuvos architektai ieškos urbanistinių sprendimų žymiausiame Tokijo rajone. Delfi, 2011 m. gegužės 27 d.
Kunihiro, George. 2009. Kenchiku bunka ni yoru kokkakan kouryuu no datousei. Shinkenchiku, 2009 m. November.
Rupeikaitė, Vereta. 2013. Žvaigždė iš Tokijo nelinki Kaunui dangoraižių. Kauno diena ("Namai"), 2013 m. spalio 3 d.
Žukauskienė-Čepulionytė, Gabija. 2001. Dešimties metų Lietuvos ir Japonijos kultūros ryšių apžvalga. Mokslas ir gyvenimas, 2001 m. spalis.