Theater and music exchanges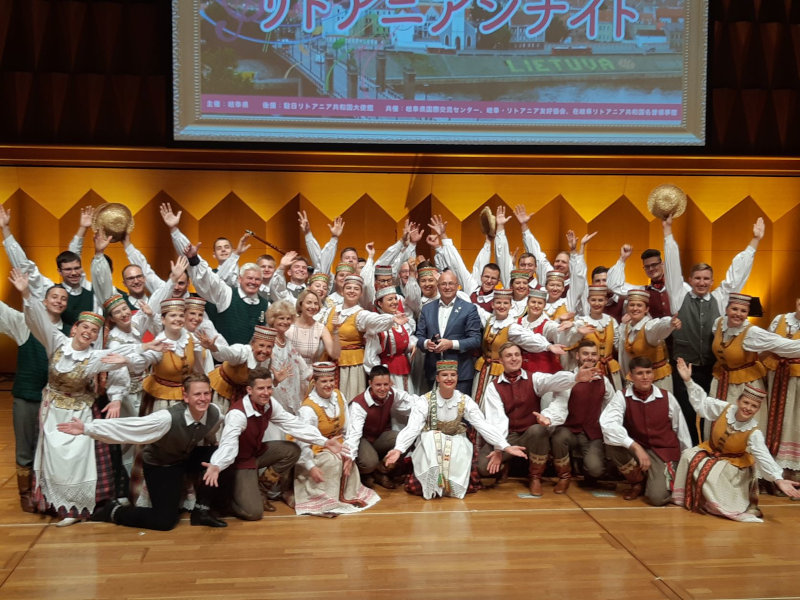 Theater, dance, and music create harmony. In addition, art conveys meaningful stories, which, in joint projects, unite the artists of two countries through a universal language of metaphors, sounds, and images. Lithuania cherishes a rich tradition of drama and music, which fascinates Japanese viewers with its professionalism. Meanwhile, Japan offers Lithuanians theatrical and musical forms, such as the mask theater no, the expressive kabuki, or the sacred dance kagura, which have millennial traditions.
(KTU ensemble "Nemunas" in Gifu, 2018; Azija LT archive)
Dora Theater in Tokyo and its producer Kazumi Sakabe were the main initiators and the most important people in fostering early Japanese-Lithuanian theatrical relations. Kazumi Sakabe visited Lithuania in 1993 for the first time. This theater fostered the collaboration and exchanges of directors and actors from both countries.

Dora Theater started up in 1992 with a "Sempo Sugihara" performance. Subsequently, the troupe invited Lithuanian director Ignas Jonynas for theatrical training. Later, in 2005, together with Dora's actors, J. Vaitkus staged the play "Sakura in the Storm" (Lit. Sakura Vėtroje).

(poster of "Sempo Sugihara" performance; Japan Digital Theatre Archives)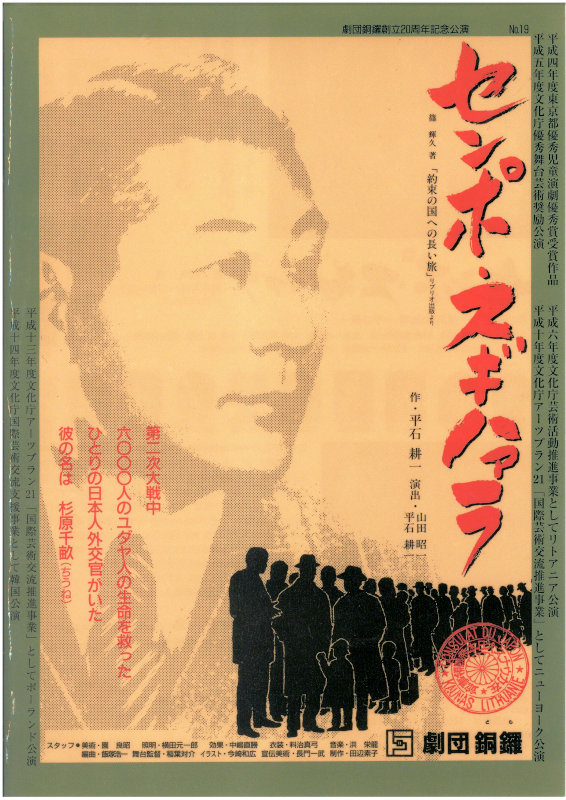 Sempo Sugihara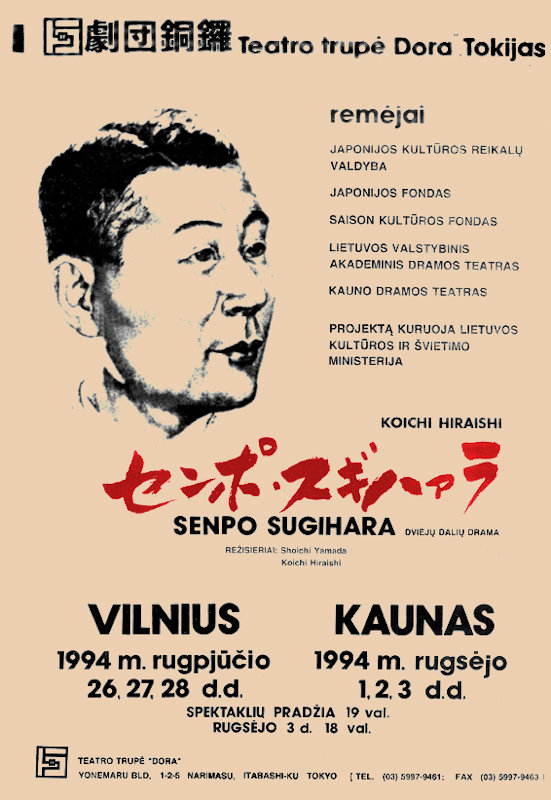 Staged in 1992, "Sempo Sugihara" is the first performance of the Dora Theater depicting a Lithuanian theme - Ch. Sugihara's feat. Its premiere took place at RN Hall in Tokyo and was later shown more than 350 times in various locations in both Japan and Lithuania. This performance contributed to the rise of the Ch. Sugihara's profile.

In 1996, another performance on the Sugihara's theme was created - "Summer in Kaunas", and in 2009, "Sempo Sugihara. To summer again".
(poster of performance; author: Ojaras Mašidlauskas)
Sakura in the storm
When the producer K. Sakabe heard about the friendship of the Lithuanian and Japanese women in a post-war camp, the idea was developed to stage a performance "Sakura in the Storm" (Lit. "Sakura Vėtroje"). Although the plot is fictional, it's based on real events. The performance is full of music, stage movement, and impressive images. It intertwines seemingly different but, at the same time, strangely close Japanese and Lithuanian cultures, which intersects in unexpected and colorful ways.

In the performance, the Japanese and Lithuanians seem to discover mythology – be it a Mardi Gras ritual, a tea ceremony with aluminum prison cups, or a samurai dance with fans. The action is accompanied by a musical background of the Japanese song and Lithuanian psalm.

The play premiered in April 2004 at the Haiyuza Theater in Tokyo. In the autumn of 2005, the performance reached the viewers of Vilnius, Kaunas, and Klaipėda.
Japanese theater in Lithuania
The acquaintance of Lithuanian spectators with Japanese theater is very diverse. During the three decades of independence, it was possible to get acquainted with the traditional Japanese theater forms, such as kabuki, no, or kiogen. Lithuanian directors also like to stage performances based on Japanese literature. Yukio Mishima is among the most popular Japanese playwrights.
(actress Shoko Ito after performance in Kaunas, October 2020; Azija LT archive)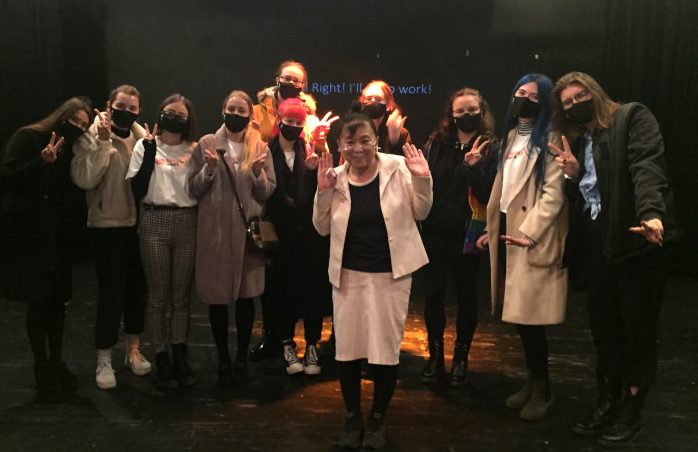 (Rūta Pentiokinaitė and Merūnas perform "Candi Candi", 2010)
Music is one of the international languages, which is easily understood by all nations. Not surprisingly, a wide diversity of music styles and forms appears in the development of cultural exchanges between Japan and Lithuania. Until now, both countries got each other acquainted with classical, traditional, and pop music.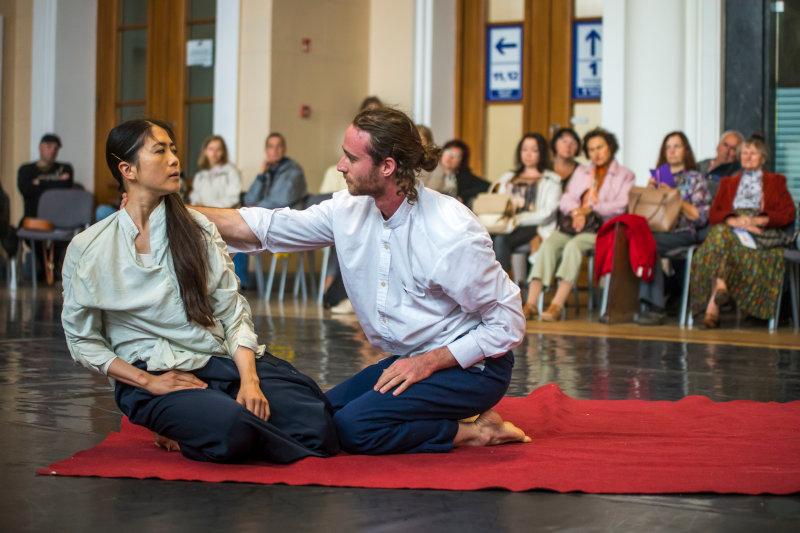 The Japanese art of dance also found its way to Lithuania. Lithuanian spectators had the opportunity to experience both traditional and modern dance culture. The Japanese dance tradition comes through dancers of Japanese origin who join local dancer troupes. Kyrie Oda and Natsuko Ibamoto, who danced at Kaunas Dance Theater "Aura," are among them. Ballerina Miki Hamanaka earned fame in Lithuania and danced at the Vilnius Opera and Ballet Theater for a long time. The representatives of modern dance participated in the international "Aura" dance festivals many times.
(modern dance performed by Kyrie Oda, 2017; Azija LT archive)
Tokijyo Hanasaki presented the culture of Japanese traditional dance in Lithuania many times and organized the jiutamai dance performances in Vilnius and Kaunas.

In 2017, Lithuanians also had the opportunity to observe a rare Japanese theatrical form – the ritual dance kagura. It is a dance performed in Shinto shrines and accompanied by ancient musical instruments. The dance has a tradition of more than a thousand years. However, only the most significant Japanese shrines have preserved those traditions. In June 2017, priests from the Hachimangu Shrine in Kamakura visited Lithuania. They demonstrated kagura in Vilnius, Sudargas, and in the Japanese garden in Kretinga district.
(choir "Ugnelė" and Tokijyo Hanasaki perform in Vilnius University, 2012)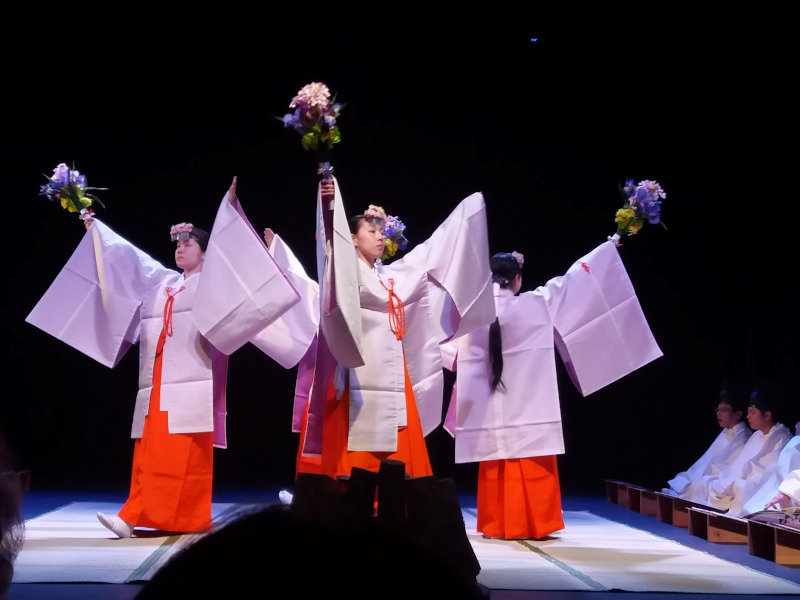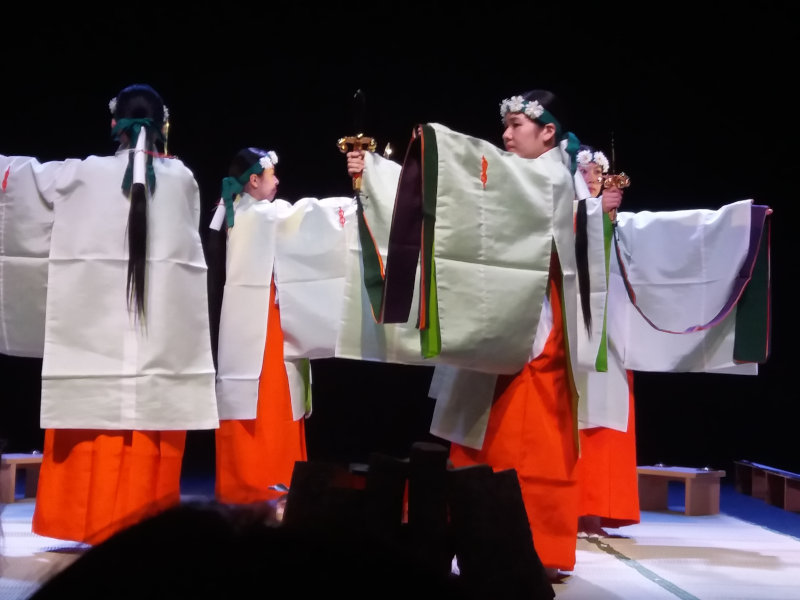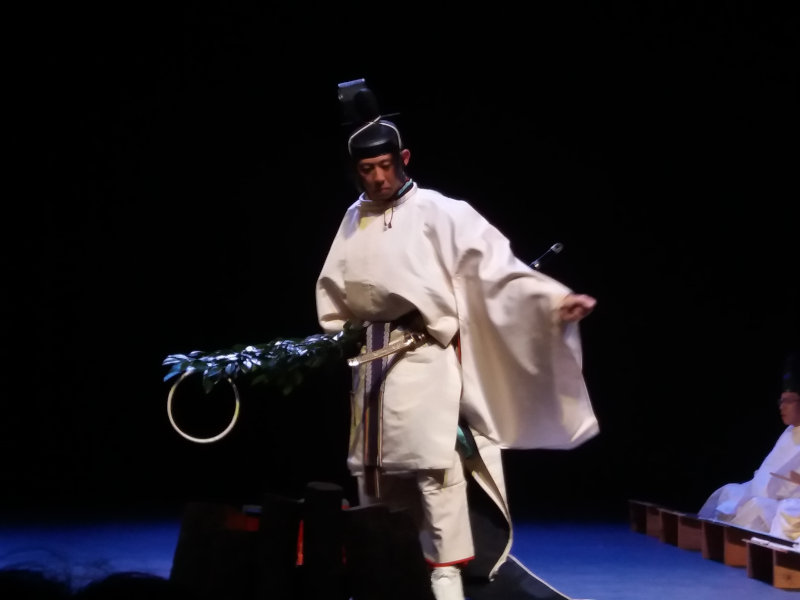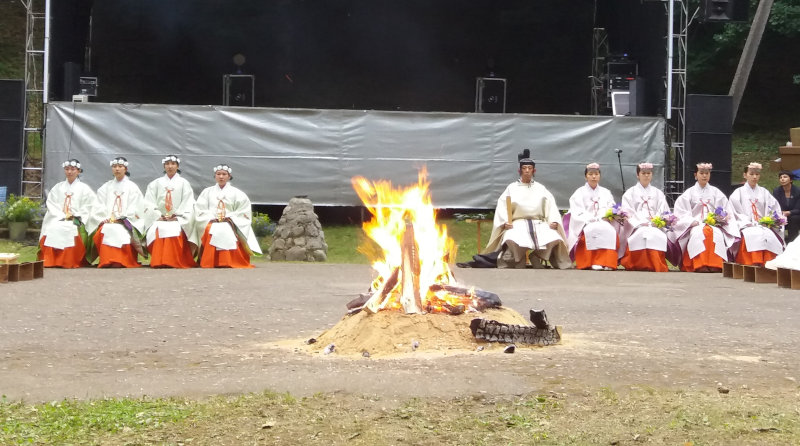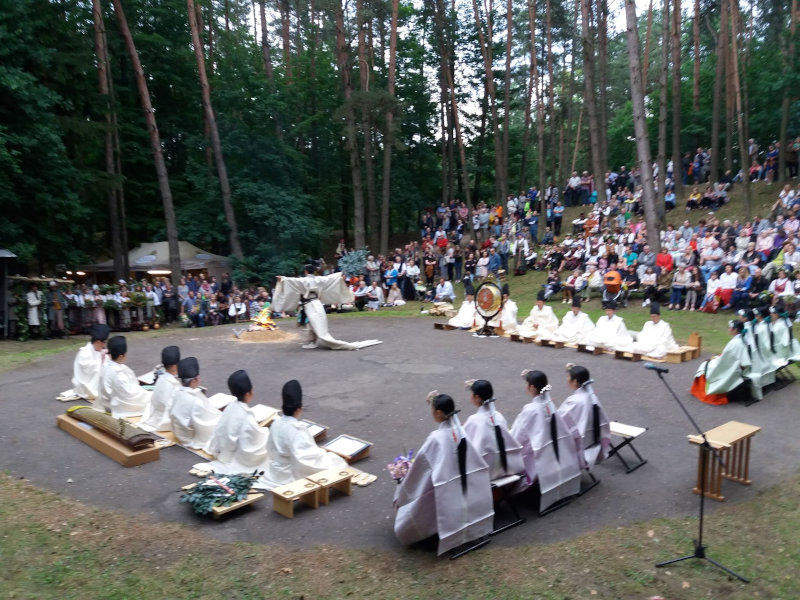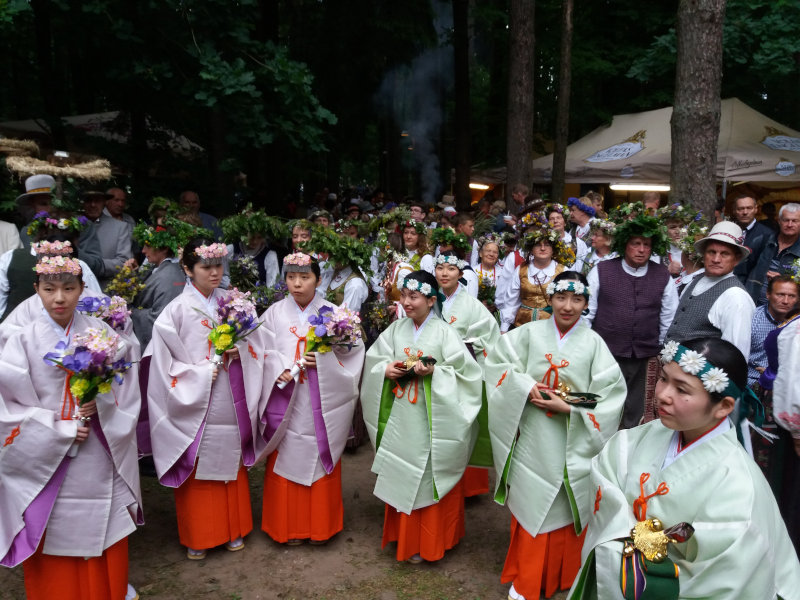 (moments from ritual kagura performance in Vilnius, Sudargas and Kretinga, 2017; Azija LT archive)
(Japanese butoh performance in Vilnius Botanical Garden, 2018)
Lithuanians are very interested in contemporary Japanese dance butoh, which combines the elements of traditional and modern dance. In October 1998, the Sankaijuku troupe toured Vilnius with the philosophical dance "Unetsu." It was performed at the Opera and Ballet Theater and fascinated the Lithuanian audience.

Some Lithuanian dancers attempt to use the elements of the butoh dance in their performances. Sakurako-san, Sandra Bernotaitė, and others are especially keen on using them.